Our network supports manufacturers of Medical devices regarding testing and regulatory affairs. Starting from the assessment of the risk class we develop roadmaps for fulfilling the requirements towards CE marking.
MDOT thus provides companies straightforward access to information relevant for their conformity assessment depending on their requirements. The information are related to matrials data sheets and toxicology data, biocompatibility data, pre-clinical data, study data and laboratory test results.
Thus, the MDOT projekt comprises serval concepts to support MedTech companies throughout Europe in their conformity assessment for medical device innovations:
Equip MedTech manufacturers with the resources nacessary to support the conformity assessments for CEmarking through the MDOT system and additional consultation if required
Join forces to provide, combine and share data and knowledge to fulfil manufacturer obligations by MDR across stakeholders

to preserve innovation, reduce animal testing, and ensure fulfilment of the MDR requirements.

The emerging Blockchain technology to log ownership of data in a transparent way
Inclusion of consulting and testing nodes/expert panels and testing platforms within and across MedTech sectors, which ensure wide coverage of the medical device industry needs.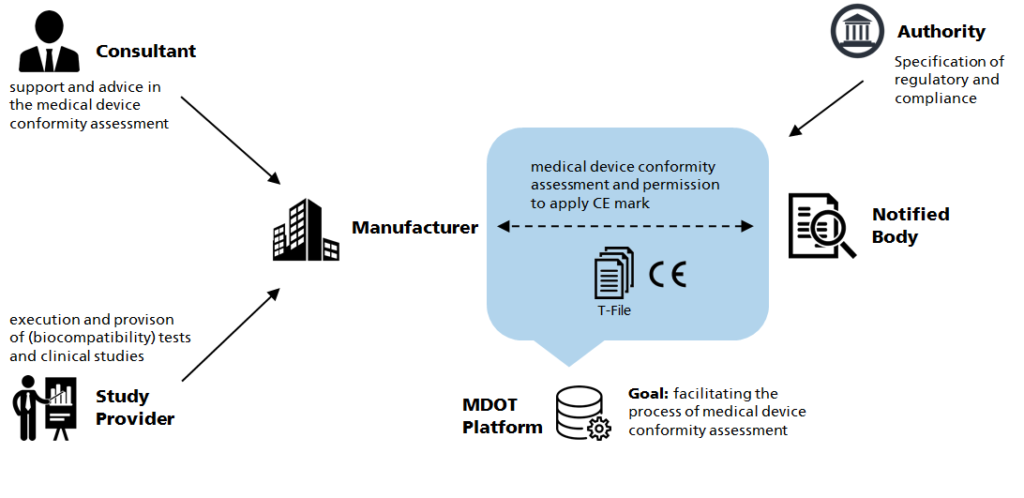 We work on solutions to simplify conformity assessment in accordance with the Medical Device Regulation, including Post-Market-Surveillance.